This blog post is about a spam technique whereby a page with zero authority can appear for a high volume search term by hijacking part of a brand's local snippet. As far as I'm aware this hasn't been written about before (edit: I was wrong). Check it out: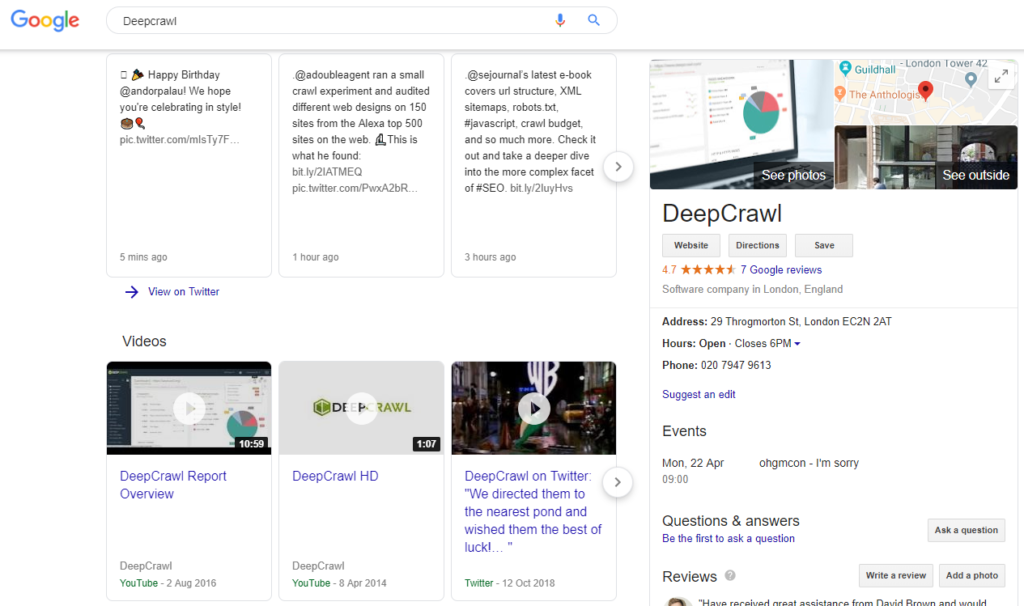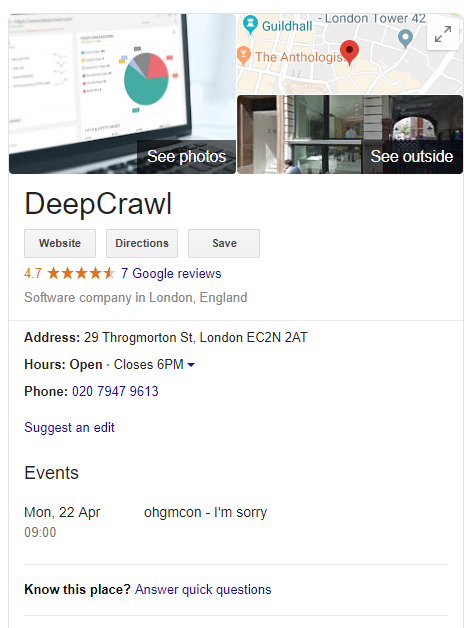 Clicking through gives us this: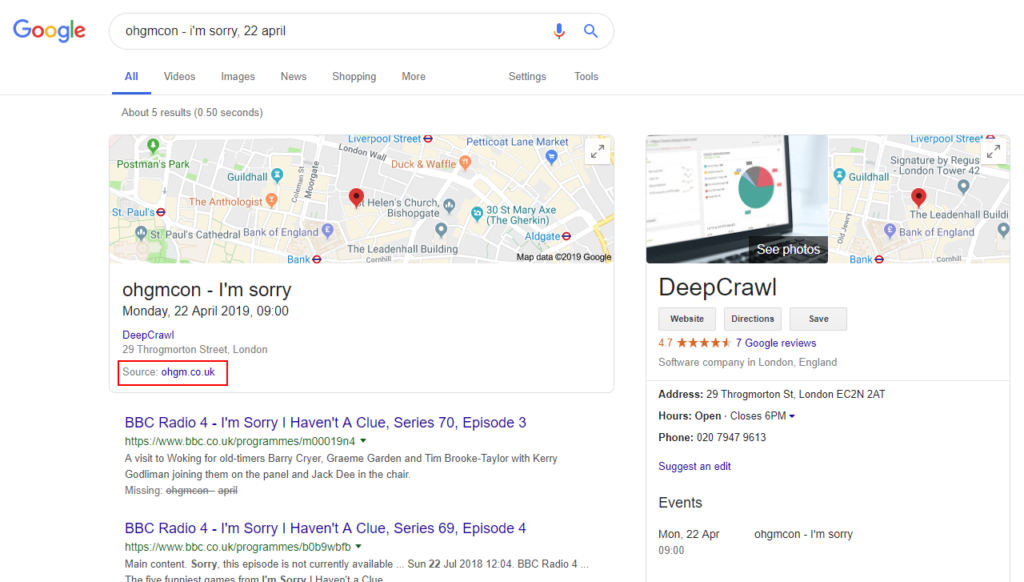 And clicking again takes you to a wonderful website!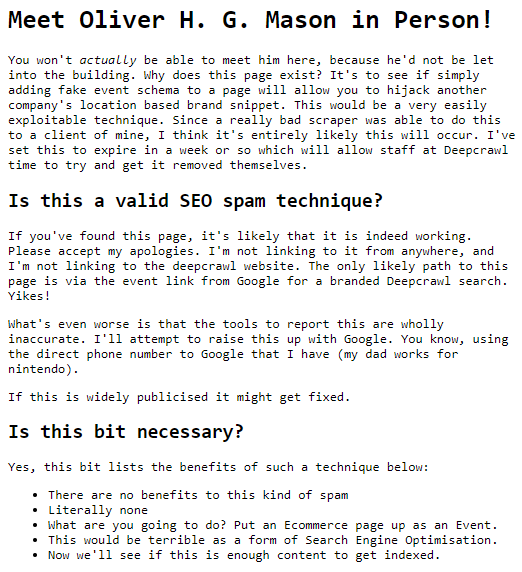 That's it.
If you want to replicate from outside the UK, try this (generated by the very usable valentin.app).
How Did This Happen?
The method is the same as for getting listings for a legitimate event (wow). I created a low quality orphan page (see above). In the page was valid event markup for "ohgmcon – I'm sorry" hosted at Deepcrawl: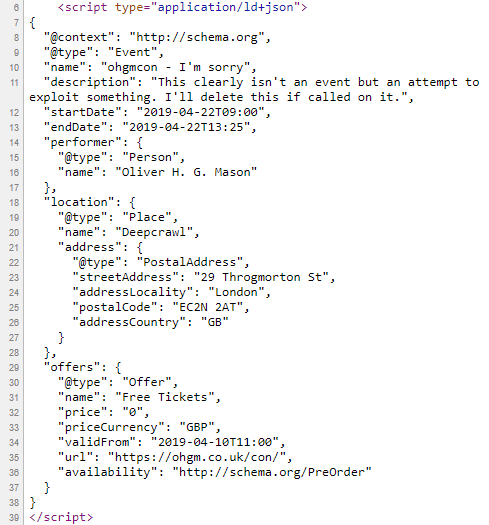 I submitted the URL of the page to Google for indexing. It was indexed within two hours. The page started ranking within the Events feature that appears in Mobile results at the same time: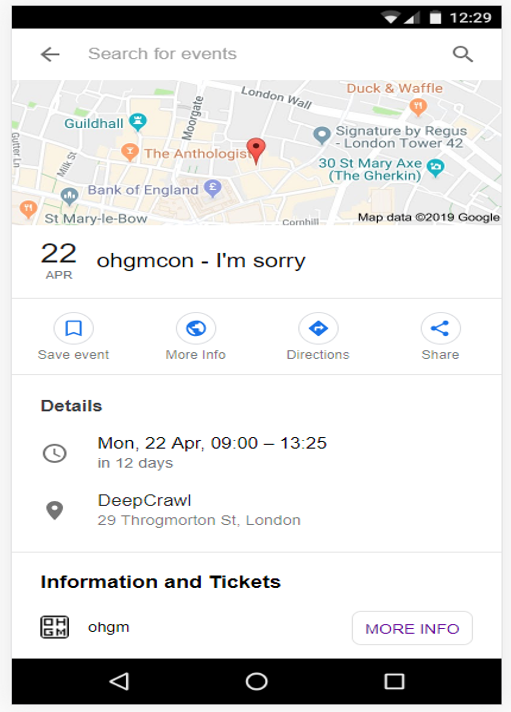 Interestingly it wasn't ranking in Events for "Deepcrawl", only "Deep crawl".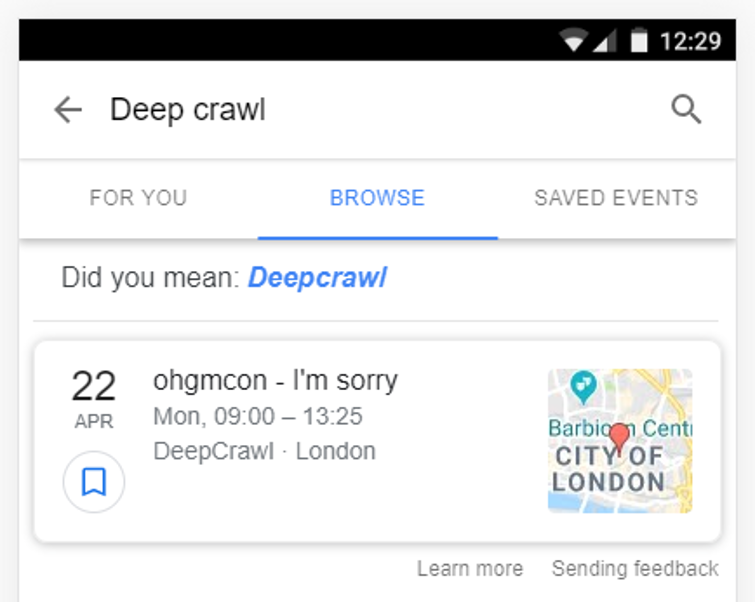 It did not initially appear for a Google Search for Deepcrawl until a few days later. Now it's appearing in general search results, but has been excluded from the dedicated events feature. Cool.
This kind of spam sticks around until the event is over, which is why I only set it to run for a week or so. It'll be gone by Tuesday. I've seen far-in-the future events stick for far-too-long.
This is just how the event snippet works. Anyone can say anything. I think we all knew this already, but probably didn't think to misuse it.
Have fun!
---
Since You Wrote This Blog Post This Is Now Happening To Me/My Client, Thanks. How Do I Fix It?
Good luck.
If you own the listing, you can't edit the events portion of it. The best you can do is submit feedback like a general Google user: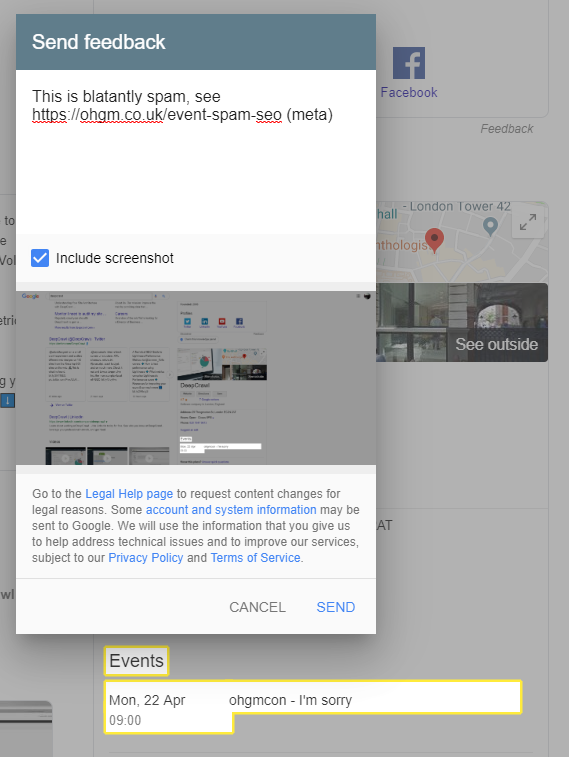 By my experience, there is essentially zero chance of this removing the event. The unmissable MAKE MONEY ONLINE WITH NLP DROPSHIPPING NOW workshop "hosted" at your Analytics Platform is here to stay. Likewise, Deepcrawl will have to wait until the 22nd of April 2019 for this event to "happen" and drop off. Sorry.
How is Event Spam Exploitable?
The key points are:
Event spam can be done in bulk very easily.
A URL with zero history or authority can "rank" almost immediately.
You can get very long events in there.
If you're reading this blog post you've probably had a few ideas. Of course, this isn't the worst type of spam imaginable but the barrier for entry is incredibly low.
How Could Google Fix This?
This feature probably should work without much fuss for many 3rd parties (think Eventbrite and Meetup), so a few potential fixes would break an actually useful Google feature.
The best I can come up with quickly is a) Allowing verified site owners to remove event listings and b) sandboxing/blacklisting 3rd party websites.
How would you solve this?
---
Originally I spoke about this as part of my talk at ohgmcon 5; a basement-based vanity-press event I hosted. If you were pumped by my hype tweet, sorry, I misplaced some zeros.