This method works best with anyone who sells uniquely named products. It can work for people drop shipping, and affiliates with decent deals. What we aim to do with this method is fairly simple. In an ideal world, we would be able to find people talking about having purchased a product your client sells from your client. As it's not an ideal world, we're going to settle for "web pages that have mentioned both a product your client sells and your client".
Method:
Get a complete list of products your client sells. You should be able to get this either from your client or by scraping using something like Screaming Frog.
Once you have these product names, fire up Scrapebox. Input [client name variations] as your footprint, and [product names] as your keywords to scrape, limiting the scope to blog comments within the last week: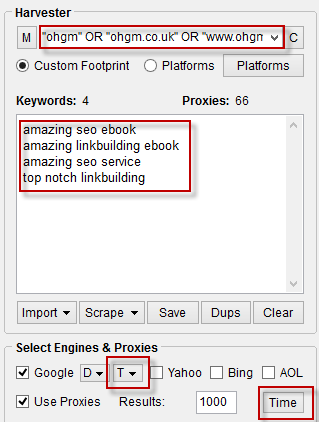 Once your scrape is completed, check these people are legitimately mentioning something that indicates their receiving the product was something to do with your client (i.e not "I tried to get this Teenage Mutant Ninja Turtles Leotard from Black Milk, but the bastards at DiscountSpandexMegastore wouldn't send it to me"). If all is well, contact them for a link. Be creative.
Depending on your results, you may wish to keep doing this (you probably will). If so, fire up your alert monitoring. I like Mention.net and I like Talkwalker. I recommend you use them both. The bit that might throw some of you is that I do this sans metrics, as long as it is an actual, real website. It's worth reintroducing metrics once you have more prospects than you know how to deal with.
The beauty of this method is that you get links to product pages, which typically aren't so competitive in terms of #linking domains required. This means your efforts actually move the dials that matter. Long term, you start to see nice revenue jumps. If your URL structure permits, you can filter for revenue driven by organic landings to product pages – otherwise you can get this grouped together for easy reporting.
Bonus: get a list of products your client sells exclusively (online or offline). You don't even need to monitor mentions of your client any more, just mentions of those products. Since they're exclusive, they either got them through you, or second hand. Both are very conducive to getting links.
Variants:
Create a price comparison spreadsheet for each product and each competitor. There are APIs that can do this for you, but it may be competitive data your client already has. Find out when you are the cheapest seller. Scrape similar mentions of competitors + product. Approach linking mentions and let them know their audience can get a better deal with your client. Approach non-linking mentions and let them know their audience can get a better deal with your client. At their website. Here's the link.
"Hi, saw you mentioned product x. Just so you know, we currently sell that for [cheaper price]."
If you're feeling brave, you can broaden the net and make the offer for places mentioning places you're cheaper than (while not necessarily being the cheapest in the market). It has the same results, but there's a chance of misfire.
This method is probably my favourite "no-budget" methods, and if you can crack it for a client early in the relationship you can use it to deliver some pretty consistent growth.